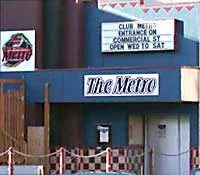 Pubs-Clubs in Photos
photos in this section are to promote Nanaimo facilities, and are not paid advertising, nor are they necessarily implying these businesses endorse this web site CityofNanaimo.com , nor does it imply this web site endorses these businesses

Nanaimo's choice of Pubs, microbreweries and Clubs are part of the diversity of places to visit and relax that make Nanaimo a place to visit and live:
Nanaimo Pub Directory-Listings
Longwood Brew Pub,
5775 Turner Rd., 729-8225
Black Bear Pub Ltd.,
6201 Dumont, 390-4800
Chaser's Sports Club,
1451 Bowen, 754-2303
Dingy Dock Marine Pub & Bistro,
8 Pirates Lane, 753-2373
Foundry Pub,
The, 105 Comox, 755-1290
Harewood Arms Pub,
4-508 8th St., 754-2566
Jinglepot Pub,
2211 Jingle Pot, 753-4223
Landlubber's Pub Ltd.,
10-2220 Bowen, 758-9400
Lighthouse Bistro,
50 Anchor Way, 754-3212
Miller's Pub,
102-1840 Stewart, 753-4833
Muddy Waters Pub,
1724 Stewart, 754-4220
Old Flag Inn,
99 Chapel, 753-7465
Palace Hotel,
275 Skinner, 754-9041
Patricia Hotel Ltd.,
525 Haliburton, 754-9014
Piper's Pub.
4520 Hammond Bay, 751-2770
Quarterway Hotel,
1431 Bowen, 754-2773
Queen's Hotel,
34 Victoria, 754-6751
Wheat Sheaf Hotel,
1866 Cedar Rd., 722-2240
Windward Neighborhood Pub, The,
14-1588 Boundary, 754-7111
Back to / see also Nanaimo Restaurants & Cafe Directory
Nanaimo Clubs & Cabarets
Black Beard Entertainment,
70 Church St., 716-0505
Desperado's,
240 Skinner St., 753-8787
Downtown Entertainment Group,
275 Skinner St., 753-7465
Grizzle Bar,
1 Terminal Ave., 753-3404
Jungle Cabaret,
241 Skinner St., 754-1775
The Metro,
37 Gordon St., 754-8000
The Pressroom,
150 Skinner St., 716-0030
Shades of Blue,
44 Commercial St., 754-7900
Back to Restaurants & Cafe Directory
---
Nanaimo is served by the B.B.B. office in Victoria - however has a local telephone number
Nanaimo Tel: (250) 755-7843
"Our Mission: To promote and foster the highest ethical relationship between businesses and the public through voluntary self-regulation, consumer and business education and service excellence." (quote from web site 07/26/02)
201-1005 Langley Street
Victoria, British Columbia
V8W 1V7

Telephone - Nanaimo : (250) 755-7843
Telephone: - Victoria : (250) 386-6348 (9:00-12:00 / 1:00-4:00 PST)

Fax: (250) 386-2367
E-mail: info@bbbvanisland.org
Website: http://www.bbbvanisland.org

Better Business Bureau Online Reports:
www.juggernautstudios.com/ cgi-bin/bbb/biz_list.cgi
File a Complaint Online:
www.bbbvanisland.org/Inquiries_complaints/
consumer_complaints_form.htm


---
| Nanaimo City-Municipal Services | Better Business Bureaus | Hotels · Motels | Nanaimo Tourism Bureau | Nanaimo Chamber of Commerce | Health Services | NewsPapers | Nanaimo Transportation | Weather | see also MetroTown.info | return to CityOfNanaimo.com home page |
NEWSPAPERS
Nanaimo Daily News
Suite B-1,
2575 McCullough Rd
Nanaimo, BC V9S 5W5
Phone: (250) 758-4917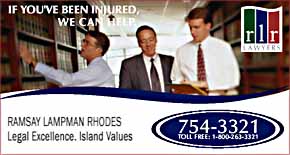 Nanaimo law firm for personal injury and criminal defense lawyers. click for more lawyers information



Canada Immigration & Work Visa Services
see CanadaVisaLaw.com for your immigration and Intra Company Transfer / NAFTA visa needs
We have helped people from over 50 countries come to Canada over the past 20 years as an immigration law firm in Vancouver.
see also
Consumer Caution
Business web promotion-advertising on this site, does not imply the ad-sponsors endorsement of this site nor does it imply the endorsement of this sites publishers of the specific business/service ad. We advise viewers to use any service on this site as they would in the real world the "bricks and mortar world" e.g. if you don't know the business/service check them out with the local Better Business Bureau, City Licensing Department, the professional-trade accreditation organization that is responsible for industry standards policing etc...